VISIT A SOLDIER is a program that provides its participants with a unique opportunity to explore Ukrainian identity, cultural heritage, and legacy by visiting Ukrainian veterans and their families, spending time together, and sharing values, interests and experiences.
VISIT A SOLDIER started in April 2015, when Ukraine War Amps team visited ADOPT A SOLDIER beneficiaries all over Ukraine to make our amazing long lasting connections! This program is a hub where you can meet Ukrainian veterans, make new friends, and discover new Ukraine emerging from the ashes of war.
Long lasting memories, unique experiences, relationships with veterans are staples of VISIT A SOLDIER program! It is an absolutely breathtaking opportunity that is only available with Ukraine War Amps!
How to join the program? Simply leave a message for Ukraine War Amps through our website or get in touch with UWA on Facebook where we maintain Ukraine War Amps community page.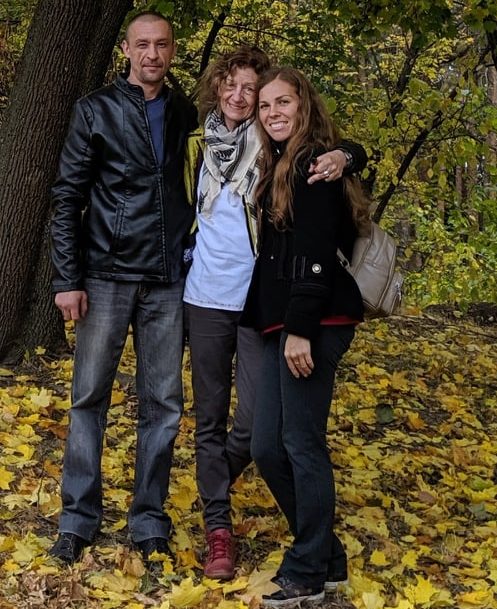 Kathryn Cook meets Vadym Babenko – a veteran she supports from Adopt a Soldier Program
Kathryn has visited Ukraine multiple times since 2015 and, through Visit a Soldier, has become deeply involved in the lives of the soldiers she has adopted.
A telemetry nurse from Livermore, Maine, she has been deeply moved by the senseless waste of the war and the bravery, strength and honesty of those who have fought to defend their homeland.
David Houghtaling meets his beneficiary, a young cadet and first grader, Artemko Kyrylyuk
David Houghtaling, 67, is a Chicago-area insurance salesman with no Ukrainian heritage but a lifelong interest in Eastern Europe.
David has made a few trips to Ukraine to meet some of the many families he's helped. His annual donations are split into about $100 per family.
In 2018, David visited first grader Artemko Kyrylyuk at his military academy in Kyiv. He stood in front of the class and shook the hand of the young cadet, who's father, Oleksandr, gave his life for Ukraine. The experience brought tears to his eyes.